bProtected® is an AWARDS-WINNING security program which provides the security that you need without changing the way you work. Once you enter your password, you will just continue to work as you used to do, a simple password is all it takes.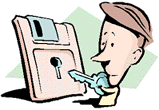 bProtected® security solution is a MUST HAVE tool for anyone who shares a computer with someone else. It's flexible and easy to use and will assure that your data is being protected against accidental or deliberate damage. It protects and controls access to valuable applications and information, moreover it protects against unsupervised usage of the online services, Internet and software piracy. It provides you a complete control over access to files and folders of your choice. You can hide, lock or make read-only any file or folder to all applications including Windows/Internet Explorer, MS Office, MS Outlook, ICQ, Netscape navigator, MS-DOS programs, programs' common dialogs, Internet hackers' utilities etc.
bProtected® secures at the lowest operating system level using an advanced file based protection scheme that allows it to secure everything by preventing unauthorized access to resources and information stored in the computer. There are three main protection levels: completely hide files and folders, block any access to the files and folders and allow just read-only access to files and folders.



Highlights:

| | |
| --- | --- |
| | Supports multiple users protection profiles. |
| | Enables to hide files and folders (users will not be able know that your files/folders even exist). |
| | Enables read protection (the context of a file/folder is viewable but can't be changed/deleted). |
| | Enables lock protection (the file/folder is visible but can't be executed/opened/deleted/viewed). |
| | Supports long and short file names protections. |
| | Easy password protected resources access. |
| | Easily protects many Windows resources, such as the Start Menu, Registry, Network, MS-Dos etc. |
| | Build in protection for preventing install & uninstall of software. |
| | Drive Reformatting protection. |
| | Allow "Stealth Mode" executing (users will not know that a security product was installed). |
| | Protects both local and remote access (if your computer connected to a network, users who connects to your computer will be restricted by your restrictions). |
| | Activity log provides a complete audit trail. |
| | Optional Time-Out for authorized access. |
| | Enables to define Safe-Modules for security restrictions excluding. |
| | Easy CheckIn and CheckOut for users. |
| | Includes Emergency Disk creation utility. |
| | Simple install and uninstall procedures. |
| | Includes comprehensive help for each feature/screen. |
| | Intuitive and simple to operate user interface. |

Satisfied Customers:
"Hi Support, Thanks for a great program. My 10 years old son almost gave me a heart attack, all the time he was messing with my work related files and more than once he deleted important files. In my company we use bProtected so I decided to try it at home... It was one of my best decisions, thanks to your program I am safe and can smile again. Keep up the great work."

(Don Ringnes)

"My wife thinks that she is a computer expert, whenever she uses my computer, she deletes something. I have installed bProtected and chosen the Read Only Access, and now she can't delete anything. Thanks guys, you developed a great program."

(Dirk Ursini)

"My lazy friend wanted to copy my semester final work, so I taught him a lesson... I used bProtected to hide it from him, now he is begging me for help. The funniest thing is that I had used the silent mode, so he doesn't know that I use a security program and the semester work is on the computer. Thanks guys and thanks for handling my order on Sunday."

(Mark Hill)

bProtected® has a very intuitive and simple to operate user interface, yet a very powerful one that lets any user novice to guru use the software in just a matter of seconds. It's easy and simple to use, and provide the most effective protection.